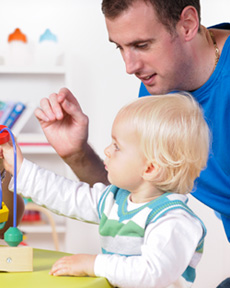 The Children's Contact Service offers a safe neutral space where children can spend time with their non-resident parent*. We believe that children thrive when they have a positive and loving relationship with both parents. Based on over 10 years' experience of providing contact (access) support to children we offer the following services to families;
Dedicated private family rooms with garden and designated bathroom.
Fully trained & qualified staff.
Stratified support based on the family's need eg. supervised, semi supervised and handover support
Progress reports
The Children's Contact Service is available to support the transition from limited or no contact between a parent and their child to a harmonious space supporting the parent to have a positive, natural relationship with their children, without the need for external support.
The Children's Contact Service endeavour to meet the terms and conditions within Court Orders however, contact days and times will be at our discretion due to demand and availability.
The Children's Contact Service request that when referring a family to our service that the Court Orders and/or Court recommendations include contact frequency, length of time and who is responsible for the payment of fees for the use of our service.
Service Opening Hours:
Monday to Friday, 9am to 5pm

Saturday, 9am to 5pm

Duration of access sessions:
Up to 1.5hrs per session
Venue for Sessions:
Family rooms and all weather gardens in Mangan House, Clonmagadden Rd, Windtown, Navan, Co Meath.

Walk to the local shop.

Walk to Blackwater Park playground.

Venue will be at the services discretion – weather permitting and Covid government guidelines.

Cost Structure:
There is an initial set up fee of €75 this is paid when submitting the referral form.
€40 per hour.

Session fees to be paid a week in advance, by bank transfer.

Where court orders are in place, the Court order should dictate how the costs of the service are being covered (e.g. 50/50 by each parent or in full by one named parent)
Level of supervision:
Sessions can be supervised with a qualified staff member present with the child(ren) at all times, semi-supervised where a staff member meets, greets and checks in on the family at various times throughout the session or handover access, whereby staff will be present at the start and end of access.
Session Reports:
Reports are written for each session based on observations of the child and their parents and the interactions the staff member had with everyone involved throughout the session. These are stored on our electronic system. At the end of each session the staff member provides verbal feedback to both parents.
Progress Reports:
Summary reports can be provided with 4 weeks' notice.  The cost of completing the report is charged at an hourly rate of €30 per hour. The parent requesting the report is responsible for payment and both parents will receive a copy of the report.

 

The report may include recommendations from the service on how the access could progress.

Availability:
The Children's Contact Service continues to be in high demand. We recommend that solicitors make contact with Meath Springboard prior to attending court to get an idea of what times and days are available (note that slots will not be secured until the initial set up fee has been paid)